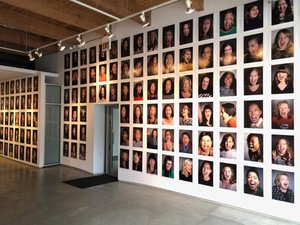 Whitney Bradshaw: OUTCRY
July 15, 2021 - September 4, 2021
Reception: July 15, 5-7pm
OUTCRY January 20, 2018 – Present
Artist Statement
In 2018, in response to the rise of a predator to the highest office in the land, the long history of silencing of women and girls, and in an effort to continue to propel the #metoo movement forward, I began making portraits of women screaming. Through this social practice project, I provide women space where they can practice speaking up and out for themselves. I also provide a space for them to be heard, supported, encouraged, and celebrated.
I invite groups of women who don't know one another to gather together, effectively expanding our community while providing support for one another as we bravely let out feelings that have been silenced or dismissed in our culture. The sessions are empowering, therapeutic, and fun!
It's important to me that a very diverse group of women is represented in the project. I do this, not only, to give voice to as many women as possible but also to ensure that when a woman views the project she can see someone like her in it. Likewise, when the larger audience views it they can see their mothers, daughters, sisters, nieces, etc. I hope the work empowers women who take part in Outcry as well as those who view it to speak up for themselves whenever they need to. Most importantly, I hope the work encourages all viewers to listen to, believe, support, care for, and above all respect women and girls.
I began this project on the night of the Women's March 2018. Since then I have photographed over 375 women letting it all out. When seen together these intimate representations of our individual power and expression become a monumental act of collective resistance.
This is the first time all of the portraits will be installed together.
Masks required for those non-vaccinated.
Partially funded by the Department of Cultural Affairs and Special Events