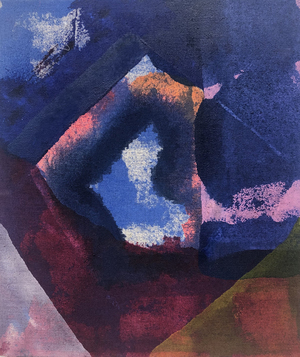 Anna Kunz ROSY
September 14, 2023 - October 27, 2023
Reception: Thursday, September 14, 5-7pm
For her solo exhibition at McCormick Gallery, artist Anna Kunz presents a new body of work featuring thirty small oil paintings on fabric, foundational pieces that ground her studio practice and inform her larger canvases and installations. Titled Rosy, the exhibition marks an unprecedented look at Kunz's complex and expansive artistic process, which is at once controlled and improvisational, a spirit that calls to mind experimental jazz or interpretive dance.
The artist's connection with movement begins in the studio. Kunz works on several paintings at the same time—canvases arranged flat on the floor—gliding from one to the next and back again in an extemporaneous call-and-response actions. Each surface Kunz touches is considered a document or record of this meditative, generative action, and the resulting group of artworks can create vastly different rhymes and rhythms depending on how the paintings are arranged.
Kunz adroitly uses titles to set the tone and to convey rich layers of information and emotion. The title of the McCormick presentation pays homage to the artist's aunt Rosy, a fellow maker, for whom creative practice was a means of self-care. Kunz often forces light through fabrics and spaces, which to her suggests optimism, as in "everything's rosy," or "rose-colored glasses." Rosy also refers to the artist's bashfulness in publicly presenting deeply personal work (i.e., cheeks turning rosy with embarrassment), as well as evoking Kunz's use of color to give form to light.
In conversation with the arrangement of small paintings, layers of dyed and printed textiles hang from the ceiling forming an undulating curtain of color and shape draped before the gallery's front window. These ethereal fabrics serve as a reminder that immersiveness, architectural intervention ("softening," as she puts it), and shared experience are crucial themes for Kunz, who intends for her installations to create a social space that encourages reflection and invites multiple points of view.